Facebook on Monday announced another series of changes to its mobile apps, most notably enabling new notifications more closely tailored to users and their current location.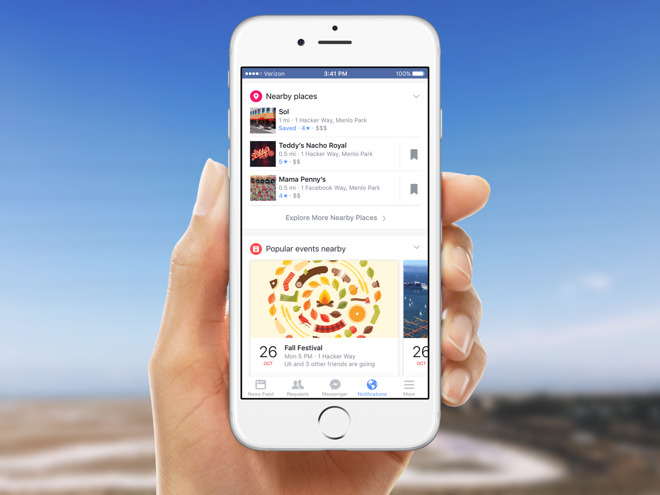 An updated, Google Now-like Notifications tab segments information such as milestones, event RSVPs, sports scores, and reminders about TV episodes. The latter two are based on Liked pages.
Facebook's chief product officer is reportedly requiring a number of team members to switch from iPhones to Android phones so they can experience how most people interact with the social network.
"I am mandating a switch of a whole bunch of my team over to Android, just because people, when left up to their own devices, will often prefer an iPhone," Chris Cox revealed at a recent Facebook press event, according to Wired.
Federal prosecutors in New York have responded to a judge's request that they explain why the government still needs Apple's help to unlock an iPhone 5S after a recent guilty plea.
The case involves a man named Jun Feng, who pleaded guilty to one count of conspiracy to distribute and possess with intent to distribute methamphetamine. Feng was charged in conjunction with six other defendants. And as part of the government's effort to convict Feng, the feds wanted—and still want—Apple's help to unlock Feng's seized iPhone 5S running iOS 7. Last Friday, United States Magistrate Judge James Orenstein invited the prosecutors to explain why it was still necessary for him to sign off on a proposed order that would compel Apple's assistance.
Read the rest of this entry »