Previous rumors that a smaller-screened "iPhone 6c" had been canceled for 2015 and perhaps now set to launch sometime in 2016 are getting a bit more heft today, with a report from Digitimes suggesting the "iPhone 5c successor" will launch in the second quarter of 2016.
The site's sources from within the seminconductor industry also point to the so-called iPhone 6c lineup arriving with new 14/16nm FinFET chips from TSMC and Samsung, which would bring better performance and lower power consumption to the new line of cheaper iPhones.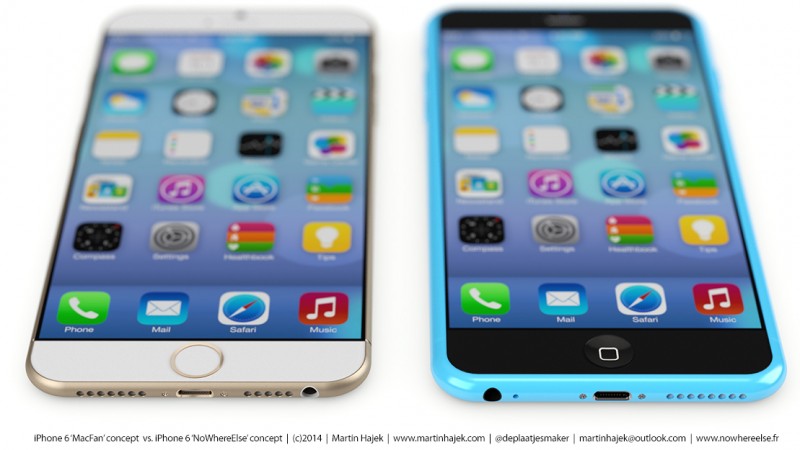 The 14/16nm FinFET chips will be manufactured by Taiwan Semiconductor Manufacturing Company (TSMC) and Samsung, the sources said. The original plan was to equip the devices with chips built using TSMC's 20nm SoC process, said the sources, but the adoption of FinFET processors would enable specs upgrade and lower power consumption.
Releasing an iPhone in the second quarter of the year wouldn't exactly be unheard of for Apple — the original iPhone, iPhone 3GS, and iPhone 4 all launched in June — but it would definitely go against the early fall annual launch dates the company has been following for about four years now.
The iPhone has never been on par with the competition when it comes to internal components on paper, but Apple manages to beat rivals consistently when it comes to overall performance. The Cupertino-based smartphone maker improves the iPhone's hardware each year at its own pace, although it also set some standards in the industry, including having launched the first mass-market phone with a 64-bit mobile processor.
That's why it's not surprising to hear that two companies are fiercely fighting to make the iPhone 7 even faster and more energy-efficient than any iPhone before.
Samsung and TSMC are looking to score iPhone contracts for 10nm chips, which would be even faster and more battery-friendly than the ones used in current flagship devices.
Here's how to download and install the latest iOS 9 beta and join the public beta programme on your iPhone or iPad right now – months ahead of the official public launch this autumn. We show you how to install the beta on your device.

How can I install iOS 9 on my iPhone and iPad now? I want to try out iOS 9 right away, and don't want to wait for the public launch!

iOS 9, the next version of Apple's iPhone/iPad operating system software, was unveiled at WWDC 2015 at the start of June. But for most owners of Apple devices, seeing the exciting new features in iOS 9 was a bit of a tease – because they won't be able to get hold of iOS 9 for months. (When will iOS 9 launch to the general public? We discuss the iOS 9 launch date in more depth in a separate article, but probably in September, alongside either the iPhone 7.)