iPhone Users Want Flash by Millions, Adobe Says
Some 7 million iPhone users have tried to download Flash, according to a Adobe blog post.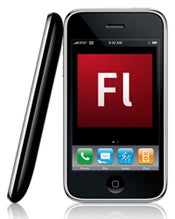 Mark Doherty, Flash Platform Evangelist at Adobe Systems focused on Mobile and Devices with Flash technologies notes: "A little while ago I blogged about our new iPhone page at the Flash Player download center, the same site where hundreds of millions of users download and upgrade Flash every year."
"We were amazed by the numbers of hits received from iPhone OS devices, from users seeking the Flash Player to play back rich content from their favorite sites. Users that, before we created the special page, had no idea that Apple do not want them viewing the Internet as they see it today."
Apple's iPhone, iPod touch and forthcoming iPad don't run Flash despite Adobe claiming Flash is currently used in more than 85 per cent of websites, including the BBC, around the world.
"It has now been reported that over 7 million attempts were made by users to download the player by December 2009, that's up from 3 million attempts in June 2009," Doherty adds on the FlashMobileBlog post.
"Incredible numbers I think you'll agree!"
Since Apple announced plans for the iPad last month, the company has been locked in a war of words with Adobe over Flash. According to Wired magazine, Apple's CEO Steve Jobs recently claimed Adobe is lazy, Flash is buggy, and the future of the Internet will be HTML5 based anyway.
Adobe CTO Kevin Lynch hit back taking a jab at Apple's iPad in a blog post: "Some have been surprised at the lack of inclusion of Flash Player on a recent magical device," he said.
Lynch also claimed Adobe would continue to support the development of HTML despite some reservations.
"Adobe supports HTML and its evolution and we look forward to adding more capabilities to our software around HTML as it evolves. If HTML could reliably do everything Flash does that would certainly save us a lot of effort, but that does not appear to be coming to pass."
"Even in the case of video, where Flash is enabling over 75 per cent of video on the Web today, the coming HTML video implementations cannot agree on a common format across browsers, so users and content creators would be thrown back to the dark ages of video on the Web with incompatibility issues."
[Thanks: http://www.pcworld.com]