Don't Hold Your New Apple (NASDAQ: AAPL) iPhone That Way
The Apple (NASDAQ: AAPL) iPhone 4, just released yesterday is already getting a lot of attention, and not for the better. As people across the country began activating and using their new iPhones many found to their dismay that they were getting cut off during calls.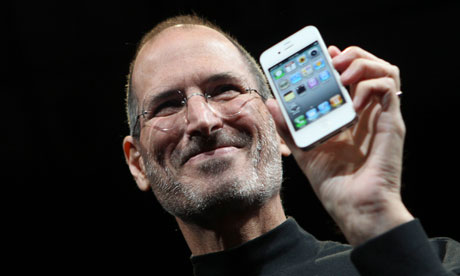 Why? It seems that the new phones design, which is thinner than the previous versions and boasts more battery life, has one other new feature that customers were not expecting and many are not happy about. The antennas for the phone are located in a metal band that wraps around the phone, and when you grip the phone just right you can get loose your signal.
People have been blogging about the issue all day. "If I hold the phone in my left hand the signal drops to 'no service' and I am unable to make calls if I try," a poster who goes by the name bloodduality wrote on tech blog AppleInsider.
In response to the concerns, CEO Jobs responded "Non issue, Just avoid holding it in that way." Apple said that some loss of signal from gripping a handset is "a fact of life for every wireless phone," and that if it happens on the new iPhone, users should "avoid gripping it in the lower left corner in a way that covers both sides of the black strip in the metal band."
In upgrading the phone, Apple had to redesign how the antenna was built in. The steel frame is now used to broadcast your cellular signal on one side and Wi-Fi and blue tooth on the other. When people hold the phone just right, the signal can be interrupted. Previous versions of the phone had the antenna located inside the case and therefore this was not an issue.
Apple claims that every cell phone can have these same issues and that it should really not be a concern to users. According to Apple, just learning to adapt to a different grip when using the phone will stop calls from dropping. While this may be a bit annoying to some users, the new design does come with some great enhanced features.
Many people however are not happy with this advice and are openly complaining about what they are calling a design flaw. Only time will tell if people adapt to the new design or if it turns into a bigger issue.
[Thanks: http://www.americanconsumernews.com]