Chinese police arrest five for selling fake iPhones
Police swoop on gang in Shanghai for making and selling pirate versions of Apple's iPhone
Chinese police have arrested five people in Shanghai for making and selling fake versions of Apple's iPhone, according to a report.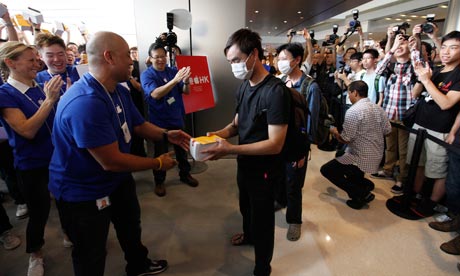 Those arrested were part of an organised gang that bought components for the phones from Guangdong in southern China and assembled them in rented apartments in Shanghai, police said in the Shanghai Daily.
About 200 fake iPhones were found.
The cost of making one fake iPhone, which used some genuine parts, was around 2,000 yuan (£200). It was sold on unauthorised markets and on the internet for around 4,000 yuan, a few hundred yuan cheaper than the real iPhone, the newspaper said.
The fake iPhones were said to have the same functions as the genuine phones but a shorter battery life.
"It's really hard for customers to distinguish the fake ones from the genuine ones," an officer was quoted as saying.
Officials from Apple could not be reached for comment.
China is often criticised for violating intellectual property rights. Pirated consumer goods of all kinds can be easily found in shops.
Among fake versions of the iPhone being sold in Chinese markets and on the internet are "hiPhone 5″ phones, based on leaked images of Apple'ssoon-to-launch iPhone 5.
A US blogger sparked a media storm in July after she posted pictures of an elaborate fake Apple Store in Kunming selling genuine but unauthorised iPhones, Macbooks and other Apple products.
[Thanks: http://www.guardian.co.uk]