Alleged iPhone 6 Home Button and Sensor Flex Cables Spotted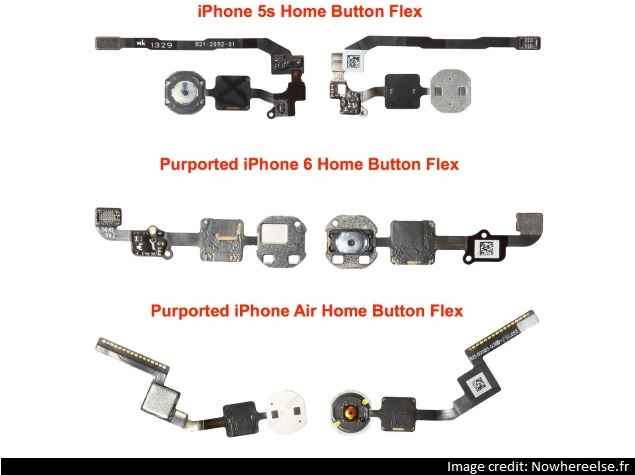 We have been treated with new high-quality leaked images that which purportedly show components of both variants of the rumoured iPhone 6 – specifically, the home button and sensor flex cables.The alleged iPhone 6 component images have been posted by Nowhereelse, and were first reported by MacRumors.
The leaked images potentially show the home button and sensor flex cables of the yet-to-be-announced iPhone 6, which is expected to come in two screen size variants – 4.7 and 5.5-inches. The new leaked images of the alleged iPhone 6 components (both variants) feature comparisons with similar parts from the iPhone 5s.
The leaked high-quality images of both iPhone 6 models show two (4.7-inch and 5.5-inch) designs for each alleged home button, pictured from both sides, with the square section purportedly for the Touch ID sensor. The images also show that the new designs Apple is using for iPhone 6 are quite different from the iPhone 5s' components, which are pictured alongside.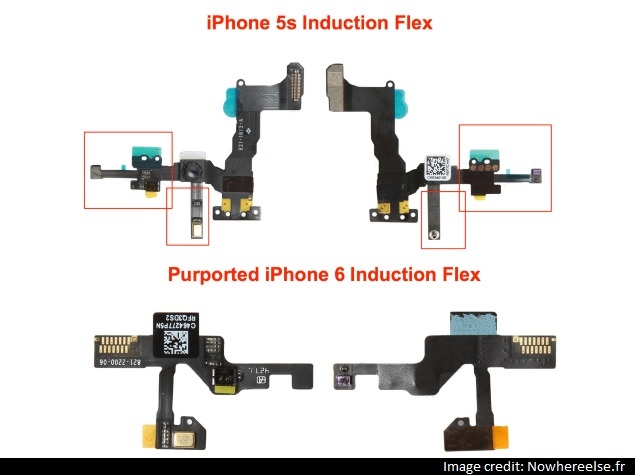 The other bunch of high-quality leaked images purportedly show the flex cables of the ambient light/proximity sensors and microphone, claimed to be from both iPhone 6 models. Notably, MacRumors indicates that the induction flex cable on the iPhone 5s packs the handset's front camera (for FaceTime), while the camera is missing on the alleged iPhone 6's induction cable. Further, one batch of images refers to the 5.5-inch iPhone 6 as the 'iPhone Air', which is in-line with an earlier report.
The last few weeks have seen a number of internal components from the unannounced iPhone 6 being leaked in images. The anticipated handset's alleged flex cable for the Lightning and headphone assembly was recently leaked in images. Along similar lines, we were treated with images of the purported flex cables of the power and volume controls from the iPhone 6 recently, alongside images of the flex cables for the SIM card tray.
Last week, a new bunch of images was leaked which purportedly showed the 4.7-inch iPhone 6's logic board and tipped Wi-Fi 802.11ac and NFC support.
We remind readers however that nothing is official yet, and that all such leaks must be taken with a pinch of salt.
[Thanks: http://gadgets.ndtv.com]