Why the iPhone 6 Costs $47,678 in Venezuela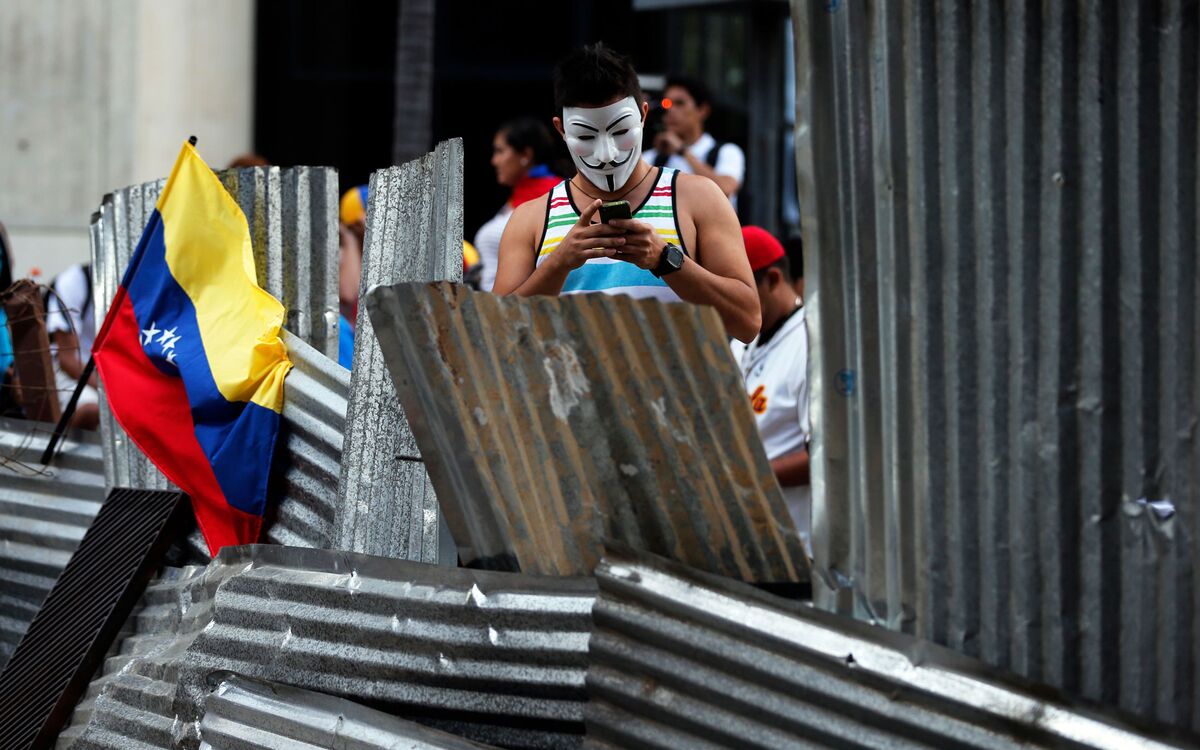 Maria Veronica Fernandez went to eight stores in Caracas to add her name to a waiting list for a mobile phone she didn't even like.
After she was robbed of her Samsung Galaxy S4 phone at gunpoint in May, Fernandez, 24, embarked on a shopping quest much too familiar for Venezuelans, who live with the world's highest inflation, chronic food shortages and rampant crime.
"It's the same feeling of helplessness as when you have to go to three or four supermarkets looking for toilet paper or oil or flour," Fernandez said. After a few weeks' wait, she bought a Samsung Galaxy Fame — a less-sophisticated phone with fewer features. "At least if this one gets stolen, it won't hurt as much."
Forget about a top-end smartphone. Venezuela's lack of inventory and a shortage of dollars is making it harder this year to buy any mobile phone. Just 4.9 million will be sold in 2015, according to a Pyramid Research estimate. That's a 46 percent drop from the almost 9 million devices sold in 2012. Venezuela's shrinking number of users is an anomaly in Latin America, which had growth of more than 4 percent last year, according to eMarketer.
The country is having trouble finding enough dollars to pay for imports of basic goods, let alone mobile devices. That's because oil accounts for 95 percent of Venezuelan exports, and local crude prices fell 50 percent in the second half of last year. Rather than import phones directly from manufacturers, mobile-service providers and vendors are obligated to go through government middleman Telecom Venezuela and the dollar shortage has hindered it from fulfilling orders.
Repairs, Parts
Eduardo Eckholt, owner of the Celular Premium store in the Paseo Las Mercedes shopping mall in Caracas, said the stranglehold on phone imports makes it difficult to stock his store with the latest models. He now focuses on fixing phones and selling parts.
"I've been in this business for 18 years and I see that people would rather repair their phones than buy a new one," said Eckholt, 53.
The scarcity of the new 4G mobile-phone models that are highest in demand is driving Venezuelans to the black market and making them susceptible to theft.
"If you have a nice phone, they will steal it at some point if you ever show it in the street," said Tina Lu, senior consultant at Counterpoint in Buenos Aires. "And if you want to buy one, it's going to cost you an arm and a leg."
Currency Controls
Costs are also exacerbated by surging inflation. The annual rate was 69 percent in December, the last month that the central bank reported data. Barclays Plc said on May 20 that the rate was currently in the "triple digits."
Fernandez paid 17,000 bolivars for her 3G Fame phone, or about $2,700 at the primary official exchange rate. To see it another way, 17,000 bolivars equals 2.3 months of pay at minimum wage.
The country has maintained strict currency controls since 2003. Yet with inflation accelerating at the world's fastest pace, people want dollars to protect their savings.
Some Venezuelans attempt to use a yearly allowance, set by the government, to obtain dollars at one of the official exchange rates to buy phones through websites like Amazon.com, according to Lu. The official rates are 6.3 and 12 bolivars per dollar and are typically for government-authorized priority goods including food and medicine.
Yet the government has tightened disbursements as shrinking oil revenue means fewer dollars to go around. That, combined with a dearth of inventory, has made the newest mobile devices ultra-hot commodities. Apple Inc.'s iPhone 6 sells for about 300,000 bolivars ($47,678) at local e-commerce site Mercado Libre, about 41 times the country's minimum monthly wage of 7,325 bolivars.
Venezuela introduced a third rate in February of 196.95 bolivars per dollar for those who aren't able to buy the U.S. currency at the preferential rates. Some people with other access to dollars exchange them for bolivars at the black-market rate — about 456 on Friday. That brings the cost of the iPhone 6 to about $658. The bolivar has further collapsed in black-market trading since the beginning of May, when it was about 279 per dollar.
For many Venezuelans, smartphones are hardly a luxury even at a time when food and other necessities are in scarce supply.
Acute Shortage
Venezuela's device shortage is so acute that availability is often restricted to just two or three stores in all of Caracas, Counterpoint's Lu said. The latest iPhones are next to impossible to find, as stores offer mostly Chinese-made phones from companies such as Huawei Technologies Co. and ZTE Corp., and a few models by Samsung Electronics Co., Nokia Oyj or LG Electronics Inc.
"People go to the operators' stores to find that they can't find phones" they want, Guillermo Hurtado, a Pyramid Research analyst, said in a phone interview from Boston. "With such a high demand that can't be satisfied, you see other marketplaces begin to flourish," such as MercadoLibre.com, and demand for refurbished devices, he said.
That makes mobile phones lucrative to criminals. Rubel Vasquez, a police sub-director of the Caracas Chacao borough, an eastern business district that's home to office towers, shopping malls and restaurants, said thieves prey on people walking or stuck in traffic, he said.
In Chacao, the most common crime is mobile-phone theft, which is often carried out by thieves on motorcycles, Vasquez said. For the past two years, at least 240 thefts were reported in the January-May period in Chacao alone, he said. The actual number is likely higher since not all incidents are reported.
"You never know how you're going to react in a situation like that," said Fernandez, the woman robbed of her phone at gunpoint. "In the end, all you can do is settle, and it really sucks."
[Thanks: http://www.bloomberg.com]