What kid of the '80s didn't see himself as Luke Skywalker, valiantly manuevering his X-Wing fighter down the Death Star trench, the fate of the whole galaxy resting upon him and his loyal astromech droid?
Seeing as most of those '80s kids probably have an iPhone now, we imagine that THQ Wireless didn't even consider the odds of successfully navigating an asteroid field when producing the $5 Star Wars: Trench Run (iTunes link).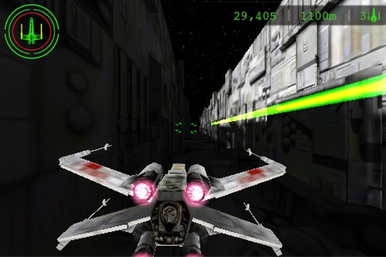 The iPhone game is kind of like a "special edition" of the classic Star Wars arcade game, dropping you into Red 5's orange flight suit at the pivotal Battle of Yavin. You can engage waves of TIE Fighters over the surface of the Death Star or make the legendary trench run to nail the small thermal exhaust port (right below the main port). The controls use the iPhone's accelerometer to steer the ship and you tap various parts of the screen to fire the X-Wing's weapons, toggle between cockpit and third-person camera modes, or activate a slow-motion feature (presumably, the equivalent of using the Force).
Read the rest of this entry »
The unlockable zombie mode from console versions of Call of Duty: World at War comes as a standalone download to the App Store.
Call of Duty fever continues with the release of Activision's first iPhone and iPod Touch game, Call of Duty: World at War – Zombies. Based on the Nacht der Untoten (Night of the Undead) map featured as a bonus in Call of Duty: World at War, the game has you blasting Nazi zombies in a small bunker.
What makes the release interesting, however, is wi-fi multiplayer that allows you to team up with others online to mow down zombies. There's also two-player cooperative play via Bluetooth, but online has our eye.
Only one map for 5.99 GBP / 9.99 USD seems a little steep, but Activision promises future downloadable content.
[Thanks: http://play.tm]
Apple appears to be getting even more serious about gaming on the iPhone and iPod Touch.
We've long known that Apple has been positioning the iPod Touch as a gaming device, and Steve Jobs even acknowledged to the New York Times the success of this initiative:
"Originally, we weren't exactly sure how to market the Touch. Was it an iPhone without the phone? Was it a pocket computer? What happened was, what customers told us was, they started to see it as a game machine," he said. "We started to market it that way, and it just took off."
In the past couple of weeks, Apple held a "game day" for select media in which they demonstrated some high profile upcoming games, including Star Wars Trench Run and SGN's Skies of Glory. The platform has already attracted some high profile developers including id Software's John Carmack who believes it could be a serious threat to Nintendo's DS and Sony's PSP.
Read the rest of this entry »