A pair of enterprising Chinese engineers have developed a case that fits around the iPod touch, turning it into an iPhone. That's all well and good in China, where the long legal arm of Apple isn't going to be able to reach them, but what if the device, called the Apple Peel 520, comes to the U.S.? That question may be answered soon.
Pan Lei, 25, and Pan Yong 23, are the Chinese brothers who invented the device. The Apple Peel 520 is a case that includes a circuit board, a battery, dock connector and SIM card. Wrapped around a jailbroken iPod touch, after software is installed, it allows the iPod touch to act just like an iPhone. After all, the iPod touch has been called the phone-less iPhone.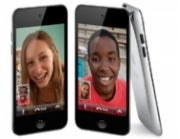 To really know a new MP3 player takes some hands-on (and ears-on) time. Here are the highlights of Apple's new iPod Touch, which was introduced last week, and an overview of what it is capable of.
Highlight: FaceTime
1. FaceTime is perhaps the most impressive new feature on the iPod Touch. At the tap of a button you can see the faces of your friends, and they can see you.
2. Setting up a FaceTime "call" is easy — as long as you have a Wi-Fi connection. Before you start you will need to enter your Apple ID and e-mail address on your iPod Touch. FaceTime connections are set up via your e-mail address (unlike on the iPhone where it's your phone number).
3. Now tap the FaceTime app and go through your list of contacts to find a friend who has set up FaceTime calling on their iPod Touch, or who has FaceTime on their iPhone. Once you find the person you want to connect click FaceTime to request a connection.
4. An invitation pops up on their iPod Touch or iPhone 4 screen asking if your friend wants to join you. When they accept, your FaceTime "call" begins.
5. FaceTime calls work in both portrait and landscape, and you can use the camera on the back of the iPod to show your friend where you are.
Highlight: Game Center
6. Another new feature on the iPod Touch is Game Center. Once you've downloaded iOS 4.1, you'll see a Game Center app on your Home screen. If you want to play multiplayer games, just tap it and sign in with your Apple ID.
7. You can create a nickname that will be visible to friends and the gaming community. Friends can find you via your e-mail address and you can associate a number of e-mail addresses with the Game Centre app so all your friends can find you.
8. Once you are ready to play a game you can invite someone to join you. Once you're signed in to the Game Center app, you can invite someone by sending a friend request using their nickname or e-mail address.
9. It's easy to find your friends as they show up in a Friends list in the Game Center app.
10. If you can't find a friend to play with, the Game Center app will set you up with another player from anywhere in the world. Auto-match will always prioritise your friends though.
11. You can mix friends with auto-match players to make up numbers if necessary.
12. You can track friend requests here too as well as take a look at leaderboards and see how your score ranks against your friends. Tap on a friend's name, and you can see what games they've been playing.
Highlight: Take HD Video
13. An advanced backside illumination sensor delivers brilliant video in both bright and low-light settings. We recorded some video at the dimly lit Apple Launch Event.
14. If you want to star in your own movie the VGA-quality camera on the front (used in FaceTime) lets you see yourself on the display while you record.
15. When you've finished shooting, you can edit and share your movie in just a few taps, thanks to the iMovie app.
16. Just drag to select start and end points on a filmstrip. Keep only the parts of the video you want.
17. It's easy to share your finished movies with the world. Upload your HD movie directly to YouTube or share on FaceBook.
[Thanks: http://www.pcworld.com]
There are many of us who want to stick with our wireless carrier, yet still would like to experience the latest Apple touchscreen device. Thankfully, Apple launched the iPod touch in three different capacities and it provides consumers with the high resolution retina display, A4 processor, iOS 4.1, and HD video camera.
Last week Apple revealed its new iPod lineup and the only one that attracted my interest was the 4th generation iPod touch. I have an iPhone 3GS, but for the last 6-8 months I have only used it as an iPod and rarely used it as a phone and I am not going to add an AT&T account just to get an iPhone 4. The iPod touch offers much of what we see in the iPhone 4, including the 3.5 inch retina display, HD video recording, FaceTime support with the front facing camera, and A4 processor. I sold my iPhone 3GS on Craigslist and purchased a 32GB iPod touch to replace it, all at no out-of-pocket cost. I have now spent several hours with my new iPod touch and am quite pleased with the purchase.