The NEW iTunes 10 and the iPod Nano were announced at the Apple Conference.  The annual September address of the press brought a lot of anticipation. Although many were hoping for new news on the White iPhone 4 and Verizon iPhone rumors, that didn't transpire.
However, there are LOTS of exciting things to share.
First, the new iTunes 10 has received a facelift and some new features. Many think that the new iTunes 10 interface is a bit drab, but I have a feeling once we get used to the physical changes it will all look better to us.
In addition, iTunes 10 adds the "Ping" social network – which is sort of like Facebook for music on steroids.  Ping allows users to share music and see what each other are listening to. Celebrities can even join Ping and send out updates when their products are available for sale, plus provide a link for easy (impulse) purchases.
Furthermore, the new iPod Nano is exciting. It ditched the long, stick shape in favor of the smaller, squarish version. In addition, it features a multi-touch screen that has many people drooling. Adding in a built-in FM radio really takes this to the next level.
The iPod Nano sells for  $149 and $179 for 8 and 16 GB models and comes in a variety of colors. You can purchase them here.
[Thanks: http://cnmnewsnetwork.com]
Sorry, geeks, but Apple's new iPod Touch is not quite ready to become your contract-free, data-only iPhone.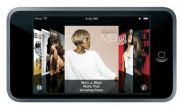 The smartphone without a voice plan is a fantasy that a lot of people share, at least judging from blog and website comments that I've read over the last year or two. At Apple's press event on Wednesday, Chief Executive Steve Jobs hinted that iPod Touch could get the job done, saying that "a lot of people call it an iPhone without the phone." He added, half-jokingly, "It's also an iPhone without a contract."
Indeed, the iPod Touch is a leading candidate to become your contract-free smartphone solution, thanks to VoIP apps like Skype and Line 2, and the call management of Google Voice's web app, but a few critical missing pieces hold the iPod Touch back from data-only glory.
If you don't count the ol' iPod Classic, Apple completely revamped the iPod line yesterday at its annual music event. The shuffle saw the return of buttons, while the nano is a miniature multi-touch marvel that can apparently double as a fancy watch in a pinch.
Then there's the iPod touch, which is now the most popular iPod model of all, thanks to support for apps and web browsing. On the surface, it looks like the new touch is everything one would want in a contract-free iPhone 4 without cellular voice support. I would say that it's close, but not quite.
I will give Apple credit, as it found a way to cram more iPhone 4 features into the new touch, even as it kept price points the same. The new touch enjoys the 960 x 640 "retina display," an Apple A4 chip and two cameras, both of which support Apple's FaceTime video calling feature. That said, however, there are still three missing features that make the new touch close to, but not on par with, a contract-free iPhone 4.