News percolates out of Apple's Worldwide Developers Conference (WWDC) in stages. First there is the keynote where Apple shines a light on specific features it wants to highlight. Then comes a week of sessions and labs where Apple engineers share concepts and techniques behind the new features in iOS and OS X with developers. Simultaneous with the action at WWDC itself is the scrutiny that developers worldwide apply to the beta versions of the code for the new OS's that Apple releases after the keynote. All in all it's a kind of sustained action leak of actual information about future Apple products .
I emphasize "actual information" because so much of what is written about future Apple products is based on vague rumblings from the "supply chain," an amorphous entity with its own agenda—primarily generating web traffic. So WWDC is especially refreshing for those of us who cover Apple and try to sift out the signal from the noise in all those rumors. Apple will release an unprecedented 4,000+ new APIs to developers with the release of iOS 8 and within those are the making of actual news.
A closer look at the big announcements of Apple's developer conference shows a plan to tempt Android users to iOS – and to bind existing users even more tightly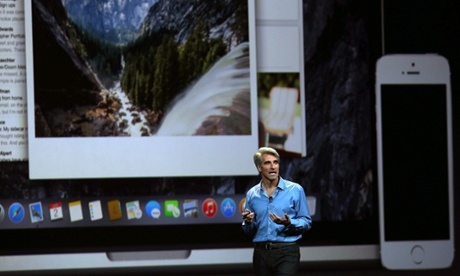 Apple's engineering Craig Federighi speaks during WWDC, where new developments pointed to plans for a bigger phone.
Apple's Worldwide Developers Conference (WWDC) is over for another year – with the developers now leaving San Francisco and digesting what they learnt there. If you agree with Stefan Constantine that there are only two important events in the annual technology calendar – Apple's WWDC and Google's I/O – then the first half is done.
The first big question people have asked: where were the gadgets? Apple has released hardware at WWDC in the past – notably, iPhones, during the device's early years. This year? Nothing.
Apple is set to release iPhone 6, its latest update to the iPhone juggernaut, in the fall. While iPhone 6 sales are expected to be huge for various reasons, there is a broader question facing Apple: Is it boxed in as a brand and a platform that merely serves the richest 15% of the world, while everyone else uses Android?
And if that is the case, can a mobile device that serves such a small minority of the planet stay relevant in the years to come? To put it in its bluntest terms, what is the point of launching the new Candy Crush Saga on a platform that hardly anyone — in a global sense — uses?