This week we both saw the official announcement of the ASUS Eee Pad Transformer Prime and the NVIDIA Tegra 3 quad-core processor that would power it – and today we get a special treat from ZTOP: a hands-on treatment complete with a size comparison to the comparatively hefty iPhone 4 (or the iPhone 4S).
What kind of comparison is that, you might ask, why compare a tablet to a smartphone? Because the iPhone was sitting on the guy's desk and he had an ASUS Transformer Prime to take some photos of, that's why. Also behold a couple of videos from the device which show off some new apps as well.
Sprint is releasing a custom suite of apps and services for the iPhone 4S, as it seeks ways to brand the device and distinguish itself in the eyes of smartphone customers.
The "Sprint Zone" for iPhone is expected to be available for download by the end of this year, said Sprint vice president Kevin McGinnis aid at the company's developer conference in Santa Clara, Calif.
The app will connect users to a custom bundle of apps and services, allowing them to easily check usage, pay bills and get news from Sprint. The company plans to make other services, such as Sprint TV, available to iPhone users shortly thereafter.
Apple has acknowledged a problem with battery life on the iPhone 4S and other devices running its new operating system. The company says a software update coming "in a few weeks" will address the problem.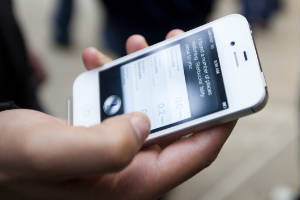 The company previously had not publicly acknowledged complaints about battery life on the phone, which surfaced soon after it was released October 14 and continued to grow in the weeks since.
"A small number of customers have reported lower than expected battery life on iOS 5 devices," Apple said in a statement to AllThingsD, a part of the Wall Street Journal network. "We have found a few bugs that are affecting battery life and we will release a software update to address those in a few weeks."
Comments on a thread started October 15 in Apple's support forums to complain about battery life had grown to 217 pages by Thursday morning.