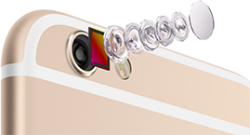 iPhone camera module supplier Largan Precision is expected to face limited earnings growth this year amid rumors that Apple's next-generation smartphone will retain an 8-megapixel rear-facing camera sensor, according to Taipei Times (via GforGames).
The report cites Taipei-based analyst Jeff Pu, who claims the iPhone 6s will have the same camera hardware specifications as previous models. Apple first introduced an 8-megapixel rear camera on the iPhone 4s in 2011 and used similar modules for the iPhone 5, iPhone 5c and iPhone 5s.
Is it safe to accept a carrier settings update on your iPhone? What is a carrier settings update, and will it affect an iPhone's speed or features?
Is this iPhone 'carrier settings update' safe to download? I keep getting a message asking me to update.
A lot of iPhone owners – including the Macworld team – have recently had dialogue boxes popping up on their iPhones telling them about a 'Carrier Settings Update'.
 We show you how to use a few easy steps to get your iPhone back up to speed, or restore it completely via a backup.Has your iPhone frozen? Do you need to reset your iPhone and restore it from a back up? Do you even have a back up? Here's how to reset, restore and reboot your iPhone next time it hangs.
If you've ever watched the IT Crowd, then you'll be well versed in the mantra 'have you tried turning it off and on again?', which is the stock response used by Denholm Industries' IT department to solve all computer related ills. In real life, well, strangely enough it's often the way to fix problems that occur on your iPhone, iPad, or even Mac. Modern electronic devices are very complicated, and can get themselves into a bit of a confused state from time to time. Resetting can clear out random problems that cause the device to get stuck in a loop, appear sluggish, or otherwise impair their performance. It's not a guarantee, but you'd be surprised how often it works.