One of the things iOS 9 is slowly fixing is the storage issue that has prevented many users who were not familiar how iOS updates work from upgrading. Instead, they found themselves delaying the move to iOS 8 because there wasn't enough storage space on their devices to perform over-the-air (OTA) upgrades. But Apple's actions also seem to indicate that despite the recent move to increase double the storage on its mid-tier and high-end iPhones, the 16GB iPhone is probably here to stay.
After seeing all the complaints from iPhone and iPad users who weren't able to upgrade to iOS 8 because they didn't have enough storage space to download the update wirelessly and then perform the install – they could easily have done it by hooking the device up to a computer and let iTunes do the job – many criticized Apple's decision to launch 16GB iPhone 6 models, instead of simply making 32GB the entry-level memory tier for new iPhones.
When iPhone first launched, backing up data was a cumbersome process that required users to transfer their files to a Mac or PC via iTunes. Apple has since moved to the cloud with iCloud, providing an incredibly simple way to back up iPhones, iPads and iPods without a host computer.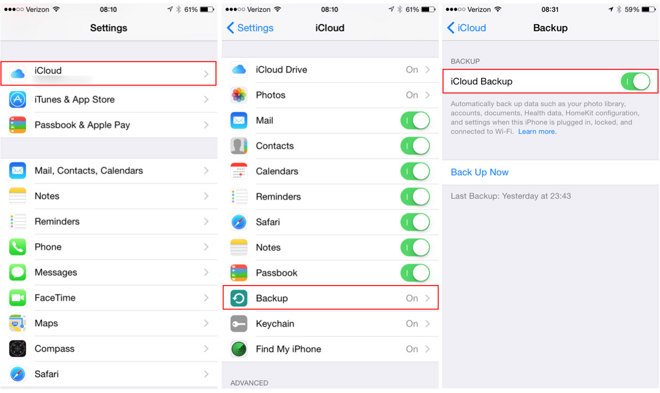 Backing up an iPhone to iCloud requires users to have an active account and be logged-in on their device. This is normally completed during the activation process, but if you are not logged into iCloud, the appropriate settings are accessible via the Settings app under iCloud.
Once you're logged-in, backing up an iPhone to iCloud is an insanely easy process.
Many T-Mobile iPhone users are expressing concern about a "blue screen of death" appearing on their devices. The T-Mobile iPhones that have been affected with the bug turns blue for a second and then restarts. T-Mobile iPhone users have been experiencing the "blue screen of death" issue over the last 24 hours or so.
The devices that have been affected includes the iPhone 5s, iPhone 6 and iPhone 6 Plus. The restarts happen at about 10 to 30 minute intervals, according to MacRumors. And it is happening on devices that run on iOS 8.1 and 8.3.