Today at its IFA 2015 press event, Huawei unveiled the Mate S, a follow-up to last year's fingerprint sensor-enabled Ascend Mate 7. The device, which has now shrunk in size from six inches to a more manageable 5.5 inches, is a refresh that borrows the all-metal looks of its predecessor. But more so than looking back to the Ascend Mate 7, Huawei's new flagship draws heavy comparison to Apple's marquee smartphone: the iPhone 6 Plus.
Huawei CEO Richard Yu walked attendees through the basics of the Mate S: 5.5-inch 1080p screen with 2.5D fourth-generation Gorilla Glass display, 7.2mm thickness, Kirin chipset, 13-megapixel rear camera with optical image stabilization, stepped battery rated for over one full day and an improved rear-fixed fingerprint sensor. Where the Mate S' design is concerned, Yu specifically called out its curved metal build — what he referred to as "diamond cut" — as being more comfortable for most consumers to hold. Gone are the typical Android shortcut keys as they are now hidden in the Mate S' "magic bottom" just beneath the screen. And down at the base, surrounding the micro-USB port, are dual speakers.

Apple's invention proposes building a smoke detector sensor into the speaker grill of an iPhone or other devices. George Frey/Getty Images
Your next iPhone could play double duty as a smoke detector. The smartphone could have the ability to take on a fire safety role, without the need to be mounted to a ceiling, an invention from Apple reveals.
A patent granted to Apple and published by the U.S. Patent and Trademark Office Tuesday, titled "Wireless Device Networks with Smoke Detection Capabilities," details how the company could build in a smoke detector within its iPhones, iPads and Macs. Once smoke is picked up by the sensor, the device could transmit alerts to another electronic device along with a graphic or map displaying where the smoke alert was triggered.
Read the rest of this entry »
Amazon's Prime Video streaming service today announced the ability for its users to download television shows and movies to an iPhone, iPad, or Android device (via Re/code). The service had previously supported such a feature, but it was exclusively available for Amazon's own Fire tablets, with today marking the first expansion onto Apple's smartphones.
The feature will let Prime users download video content for later viewing when not in direct proximity of a trustworthy Wi-Fi connection, but won't be available for every single show and film currently offered on Amazon Prime Video. The company still claims to have "thousands" of videos ready to support the new service.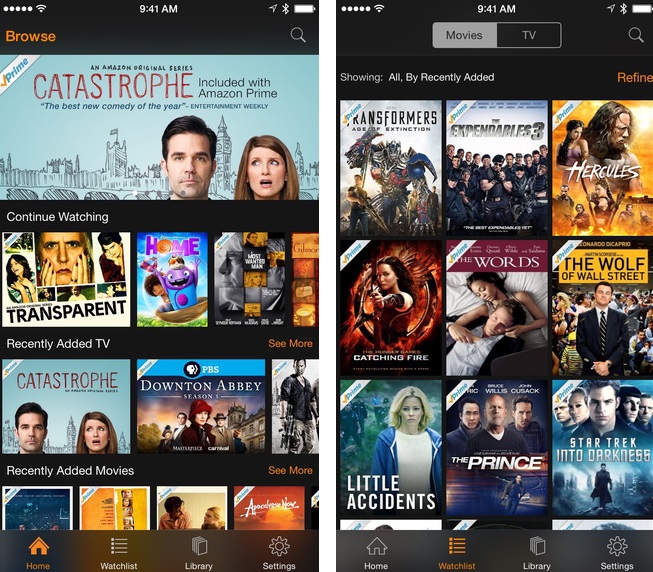 Read the rest of this entry »