Surfacing reports say Apple's next gadget may include a battery that lasts a whole week. Unlike many gadget predictions, this one is based on scientific fact.
Reports surfaced this week that the next iPhone may include a battery that lasts an entire week. And, unlike many gadget predictions, this one is based on scientific fact.
A company called Intelligent Energy has developed a prototype battery using a hydrogen fuel cell that matches the size of the current iPhone 6. Telegraph suggested the British power company is working "closely" with Apple on the design for what could become the next iPhone. Whether that's true or not is a good question, and we might not find out about any details for a year or two after the rumored iPhone 6s comes out.
Read the rest of this entry »
With a few weeks left until Apple makes its 2015 iPhone 6s and iPhone 6s Plus official, more and more rumors claim to reveal bits and pieces about the upcoming smartphones. A new report from China shows an image of a what looks like a cardboard printout of the next iPhone 6c, bringing some details about the purported new 4-inch iPhone.
Tech blog M.I.C Gadget received from a source embedded with a case manufacturing company the image below. A person is holding a paper model of the back of a phone that has all the markings of an iPhone 6. We're looking at a round-edge design and a camera and flash placement and design that's consistent with the iPhone 6. Even the protruding camera ring seems to be there.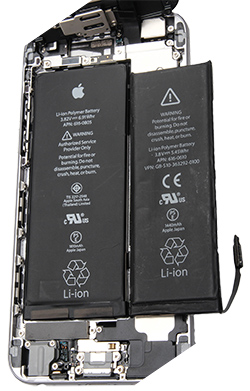 British power technology company Intelligent Energy has developed an iPhone 6 prototype with a built-in fuel cell that supports hydrogen cartridges delivering up to a week's worth of battery life, according to The Telegraph. It also demonstrated a hydrogen-powered MacBook Air.
The patented fuel cell system, reportedly poised for its first major commercial deployment in cell towers across India over the next few weeks, creates electricity based on the chemical reaction of combining hydrogen and oxygen, which produces only small amounts of water vapor and heat as waste.
Intelligent Energy also introduced a hydrogen-powered iPhone charger called Upp based on the same technology last year, but its latest breakthrough has seen it fit the fuel cell portion of the technology alongside an iPhone 6 battery pack without altering the size or shape of the smartphone.