One week from today, Apple is expected to unveil its next version of its flagship smartphone, likely to be called the iPhone 6S. As is often the case with a major event in the consumer tech world, there are bad guys out there hoping to take advantage of all the hype.
A friend of mine recently was greeted with the popup below. It appeared on her iPad as she was browsing a Web forum. She texted me and asked whether it was legitimate. She's a very smart and sophisticated professional, but apparently this was intriguing enough that she just had to ask. Hope springs eternal when it comes to being an iPhone 7 tester!
It is possible to pair an older Android Wear smartwatch with an iPhone, despite concerns that it might not be possible, according to a report from 9to5Google. 
On Monday, Google released a new Android Wear app for the iPhone that enables users to pair one of the many Android watches to the iPhone 5, 5C, 5S, 6, or 6 Plus.
Before now, Android watches only worked with Android phones. However, even with the update, it appeared that many older Android Wear watches, such as the Moto 360 and Galaxy Gear series, would still not work with the iPhone.
Amazon's Prime Video streaming service today announced the ability for its users to download television shows and movies to an iPhone, iPad, or Android device (via Re/code). The service had previously supported such a feature, but it was exclusively available for Amazon's own Fire tablets, with today marking the first expansion onto Apple's smartphones.
The feature will let Prime users download video content for later viewing when not in direct proximity of a trustworthy Wi-Fi connection, but won't be available for every single show and film currently offered on Amazon Prime Video. The company still claims to have "thousands" of videos ready to support the new service.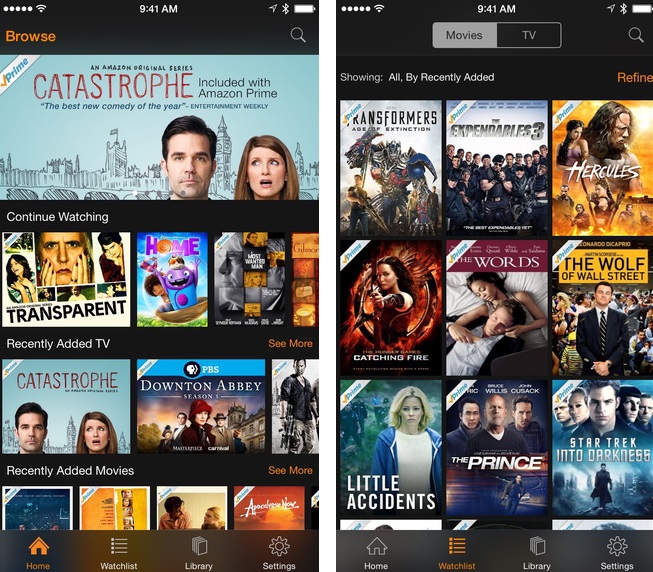 Read the rest of this entry »