Apple just released a new version of iOS. What new goodies await inside the 400-megabyte package? Not much, as far as this writer can tell. Apple iOS v4.2.6 squashes a bug in the Personal Hotspot feature included with the freshly released Verizon iPhone. And that's about it, according Apple's infamously illustrative release notes.
The "What's new" section for iOS v4.2.6 says, in its entirety, "Fixes a bug to ensure Personal Hotspot data usage is accurately reported (for Verizon iPhones)," according to MacUpdate.
Personal Hotspot is at present a Verizon-only feature, so users of the AT&T iPhone or iPod touch may treat this package like the knitted sweater from grandma: put it on out of a sense of obligation, then promptly forget about it.
AT&T Interactive has overhauled its mobile Yellow Pages app for the iPhone and iPod touch, adding new features and enhancements aimed at helping users more easily find nearby businesses and deals. The AT&T subsidiary formally announced YP—Yellow Pages for iPhone 3.0 on Thursday, though the update to the business directory app arrived in the App Store earlier this week.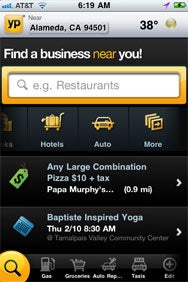 Leading the changes is a new Deals section that alerts users to nearby discounts and offers. The previous version of YP featured deals among its listings, but you had to search to find them. Now, says AT&T Interactive vice president of mobile products, deals are "concentrated in one area of the app."
The Deals section features a horizontally scrolling list of categories at the top of the page that lets you find offers for Dining, Entertainment, Shopping, and eight other areas. A list of deals includes the distance the business is from your current location; you tap the deal to get more information, including a phone number and address for the business plus a description of the deal. It's on this information screen where you can swipe to redeem the deal—just show the screen later to a cashier to claim your discount. A star icon next to the redemption slider lets you save that deal in your favorites section.
The favorites section is now called My Stuff, and it's accessible through the app. Not only does My Stuff store deals you've selected, but it lets you select businesses and upcoming events as favorites as well.
The Food and Drug Administration has just made history as it approved a mobile phone app for the very first time. Doctors can now view CT scans and MRI images on their handheld knowing everything is medically accurate.
Mobile MIM was developed by a company called MIM Software, and it allows medical professionals to send the sophisticated medical imagery to an iPhone, iPad, or iPod Touch to analyze them.
The FDA clarified the app should not be used as a replacement for a proper medical workstation, but the details it provides are good enough to be used for when doctors want to analyze material on-the-go or at home.
"This important mobile technology provides physicians with the ability to immediately view images and make diagnoses without having to be back at the workstation or wait for film," said FDA Center for Devices and Radiological Health spokesperson William Maisel.
Mobile MIM has also passed an even more stringent certification – acceptance from Apple. It will be going live on the iTunes App Store this Friday.
[Thanks: http://www.tgdaily.com]