FishyPic LLC, http://www.FishyPic.com, has released a new application for the iPhone that is available for instant download through the iTunes store. The app has been created in response to overwhelming demand from the members of FishyPic, an online social network created for fishermen.
The new app allows its members to take pictures and instantly uploading them to share with friends, family and other members of FishyPic.com. Users can be notified within seconds when their fishing buddies have landed a fish. The FishyPic iPhone app can also integrate GPS coordinates onto a private map for each user and can also provide up to date weather forecasting capabilities.
FishyPic.com allows for sharing fishing pictures, stories and experiences through an integrated online platform. With features like 'Tackle Boxes' for collecting your favorite fishing images and the "Hook It" button that allows you to link externally to interesting fish related content. The website is both interactive and fun for fishing men and women of all ages. Each individual profile within the FishyPic website can be linked to Facebook and Twitter and now with the advent of the new iPhone app, the company is truly "Taking Fishing Social."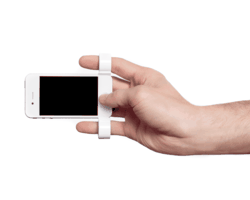 The thousands of new and current users of The AirClipⓇ have reason to celebrate today with the news that the award-winning mobile accessory works with the new iPhone 5!
The AirClipⓇ was originally designed to work with the iPhone 4 and 4S, but it can also work with the iPhone 5.
The AirClipⓇ is a one-piece device that steadies the hand while taking video. By helping the user hold the iPhone in a more natural way, The AirClipⓇ makes the iPhone more stable, and therefore greatly improves or eliminates the natural tendency people have to "shake" their phone while filming or taking pictures.  If you've ever watch a mobile video on YouTube, then you know how hard it can be to watch due to the shakiness.